Nice defense from Gusto
Riad Nouri enters the penalty area but Malo Gusto manages the situation very well.
Another stop from Riou
El Idrissy takes his chance with an off-center strike. Riou intervenes in two stages.
What an opportunity for Nouri
On a through ball from Marchetti, Riad Nouri throws himself and tries a lob with the outside of his foot but Riou makes a superb save.
A Lyon team cut in two
Since OL have been reduced to ten, Les Gones seem to have been cut in half and the midfielder has been neglected.
From the world to the warm-up
Both coaches sent substitutes for the warm-up in this encounter.
Small rhythm in this second period
While the first period was very engaged and rhythmic, the beginning of the second act is very calm.
Ajaccio came back well
The Corsicans came back well in this match and dominated this start of the second period.
Here we go again!
The two teams returned to the lawn of Groupama Stadium. The second period has just started in this first match of the Ligue 1 season which is particularly lively.
End of a tumultuous first period
The 20 players return to the locker room after a particularly lively first period where we saw three goals and two red cards. Tetê, Lacazette and Mangani are the scorers. Anthony Lopes and Romain Hamouma were excluded.
Hamouma is excluded
Romain Hamouma elbows Paqueta and receives a second yellow in this first period and is sent off. We're back to 10 against 10.
Welcome back from Paqueta
On a loss of ball from Toko-Ekambi, Marchetti infiltrates the OL surface and shifts Bayala but Paqueta comes to cover.
Four more minutes
Four minutes of additional time will be played in this very lively first period.
Hamouma tries an individual number
On a badly negotiated Lyon corner, Romain Hamouma tries to go against and ends up shooting but it largely flees Riou's frame.
Strike by Gusto, save by Leroy
Malo Gusto uses the call of Tetê to transplant in the axis and takes his chance but Leroy is vigilant.
New yellow card
Another card in this meeting. This time it was Diallo who warned for a foul on Tetê.
Hamouma insulted and shouted down
Now a player from Ajaccio, the former Stéphanois Romain Hamouma is "received" in Lyon…
"Hamouma is a su****, from Stéphanois", "Hamouma is a sal****", are regularly sung at Groupama Stadium.
V. Jamin
Many mistakes
Despite a high number of goals in this first act, the match is often interrupted by faults.
El Idrissy warned in turn
Tension is mounting on the lawn of Groupama Stadium. El Idrissy makes a nasty foul on Paqueta and receives a yellow card. This is already the fifth card of the match.
Things are heating up between Hamouma and Lacazette
After a tough intervention from Mendes, Lacazette and Hamouma warmed up. Benoît Bastien warned both players of a yellow card.
Nouri lacks spontaneity
On a center at the far post towards Riad Nouri, the Ajaccio winger tries to get back in line when the shot seemed to be the best choice.
Mangani transforms
Thomas Mangani does not tremble and transforms the penalty. The game is completely restarted.
Aouar must give way
With this red card, Houssem Aouar must leave and is replaced by Rémi Riou.
Big mistake by Lopes and penalty for Ajacciens, red for Lopes!
Oh the turning point of the match perhaps. Anthony Lopes makes an outing that is not at all controlled and comes violently hit by El Idrissy. The goalkeeper is excluded and a penalty will be taken.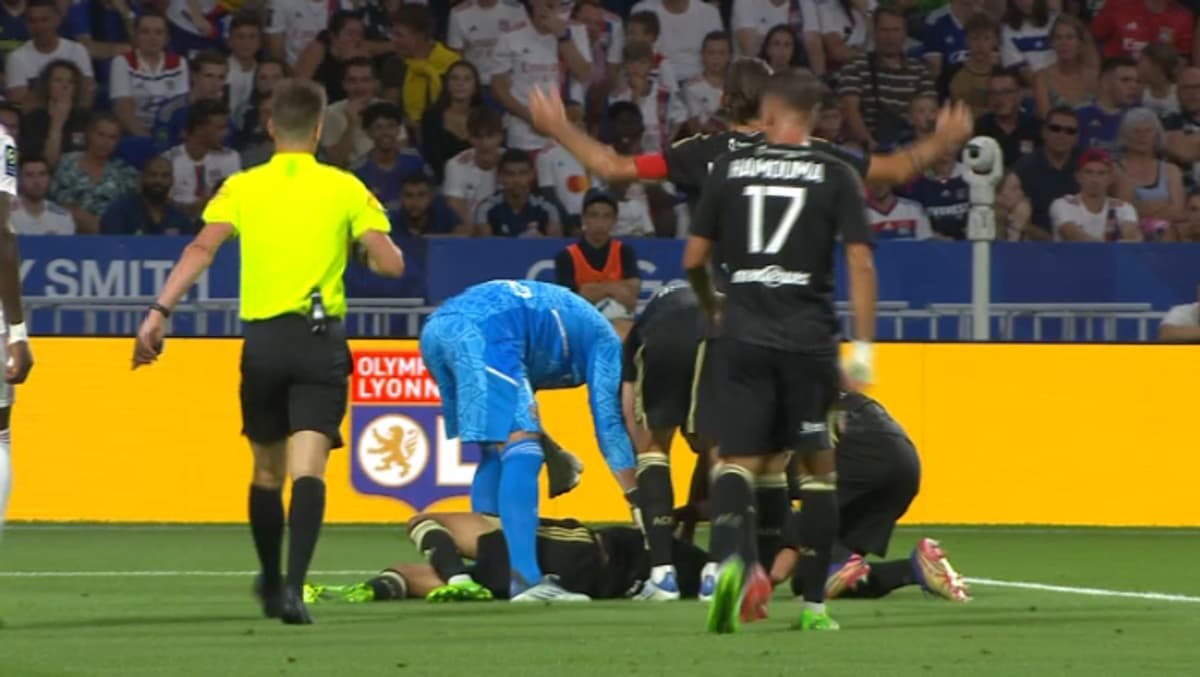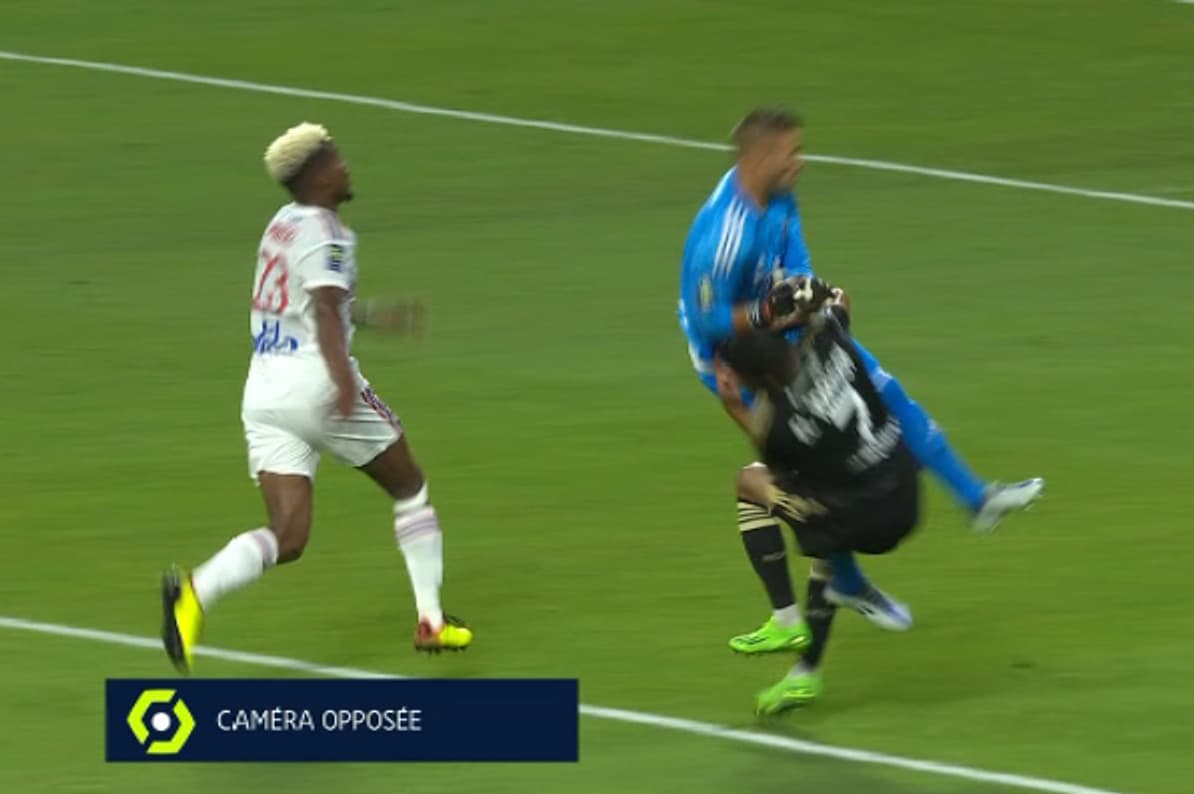 What a gesture of Tete
Tetê has been in treat mode since the start of this meeting with a superb technical gesture which passes between Diallo's legs.
A lot of realism for OL
This start to the match is perfect for the Lyonnais who lead 2-0 after having framed three times.
Lacazette transforms!
The winning return for the "general" Lacazette who transforms the penalty obtained by Tete. Lyon leads 2-0.
Penalty for OL
Cédric Avinel is at fault on Tete in the box and Benoit Bastien points to the penalty spot and gives the Ajaccio defender a yellow card.
It seems to be going for Paqueta
More fear than harm visibly for the former Milanese who got up without limping.
Package on the ground
Concern around Lucas Paqueta. The Brazilian midfielder remains on the ground and seems to be suffering from ankle pain.
The comma attempted by Tete
What a start for the former Chaktior Donetsk player. He has just tried a comma in front of Ismaël Diallo but the side of Ajaccio defends well.
The center of Mangani is missed
The former Angevin tries to alert his teammates in the area by crossing with a touch of the ball but his attempt is missed.
82% possession
The opening of the score is rather deserved. Les Gones dominate and have 82% ball possession against spectator Corsicans.
Tete gives Lyon the advantage
It only took 12 minutes to witness the first goal of this Ligue 1 season. Tete, well served by Lacazette, adjusted Leroy. The Lyonnais lead 1-0.
The center of Hamouma is safe
The former Stéphanois overflows on the right side and center but Anthony Lopes seizes it without problem.
Nice shot from Tete, nice save from Leroy
Another opportunity for Les Gones. On a corner kicked in quickly, Tete tried his luck from outside the area but Leroy lay down well and saved the Brazilian's shot.
Lyon's first good move
On a superb combination from Lyon Paqueta advances into the Ajaccio area but Diallo makes a good comeback.
Paqueta fends off danger
First opportunity for the Ajacciens with Thomas Mangani who tries to find a partner from a free kick but Paqueta sends it back with a header.
Some mistakes
Hasty start to the match. Both teams commit faults and force Benoit Bastien to intervene.
The ACA already very low
From the first seconds of play, the Corsicans are very low on the lawn and seem to want to suffer.
Here we go!
Benoît Bastien kicks off this first match of the 2022/2023 Ligue 1 season OL-Ajaccio.
Kick off in a quarter of an hour
The kick-off of this first match of the Ligue 1 season will be given in fifteen minutes now. The atmosphere is rising at Groupama Stadium.
OL are off to a good start
OL's start to the Ligue 1 season is often promising. Indeed, the Gones have not lost on a first day of Ligue 1 for 18 seasons with a record of fourteen wins and four draws.
Tolisso received a standing ovation during the recognition of the lawn
1h15 before kick-off some players came to recognize the lawn. Among them Corentin Tolisso, returned to OL. He was given a standing ovation by the public, admittedly still scattered but noisy to support him. He greeted the stands. About 50,000 people are expected tonight.
V. Jamin
The composition of OL has fallen!
It's the first composition of the Ligue 1 season, it's necessarily special!
Lopes – Gusto, Mendes, Lukeba, Tagliafico – Aouar, Lepenant – Tete, Paqueta, Toko Ekambi – Lacazette.
The return of "General" Lacazette
Alexandre Lacazette is preparing to pick up the thread of his story with Olympique Lyonnais this evening during the opening match of Ligue 1 against Ajaccio. But between 2010 and 2017, the French center-forward had already had great moments with OL.
>>> We come back to it here
It's back to school in Ligue 1
Hello everyone, welcome to this live broadcast dedicated to the very first match of the 2022-2023 Ligue 1 season, OL-Ajaccio. Kick-off at 9 p.m. at Groupama Stadium.